I stayed at an old private house inn in Chuo City, Yamanashi Prefecture. I stayed at an inn called "Loof Iwainoie". The inn is characterized by its spacious grounds, a large garden, and a grand mansion with a courtyard. Once inside the grounds, we were surrounded by trees, so it was very quiet and otherworldly, even though we were in the middle of the city. In addition, although the inn had just opened in April 2023 and was an old private house, it had been renovated to make it comfortable for guests.
The building is old, apparently built at least 130 years ago. It was an old private house with a nostalgic atmosphere, as if there were a Zashiki Warashi or Totoro.
I was also able to experience matcha (tea ceremony), meals by the Japanese hearth, and enjoy a bonfire in the garden, all of which were new and fun experiences for me as someone who grew up in the city.
Access to Iwainoie
Iwainoie is located in Chuo City, Yamanashi Prefecture. It is surrounded by many fields, but there are also a few residences there. There are two convenience stores within a 5-minute walk from the house, which was convenient for us in case we want something.
Fuji is also surprisingly close, about 60 km, so it may be convenient for sightseeing.
Higashi-Hanawa Station on the JR Minobu Line is located a 12-minute walk (about 900 meters) from Iwainoie. If coming by car, it is located about 20 minutes from the Kofu Minami IC of the Chuo Expressway.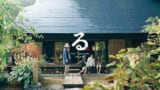 るうふ祝之家-ハレの日心ゆくまで祝い過ごす 華やぎの宿|山梨県|一棟貸し古民家宿るうふ
るうふ祝之家。山梨の真ん中に位置する、中央市一丁畑。 山々からの水が集まる豊かな田園風景の中に佇む蔵門を構えた一棟貸しの宿「祝之家」。
There is also a parking lot in front of the gate of Iwainoie. It is a parking lot, but a large space was prepared for parking about 4-5 cars. Please note that the road entering the inn from Prefectural Route 12 is a narrow road that can be easily overlooked. There is a small sign for the inn along Prefectural Route 12.
Old private house inn Loof Iwainoie
The first thing you will notice when you arrive at the inn is the magnificent main gate.However, I made the painful mistake of forgetting to take a picture of this magnificent gate, so I cannot introduce it to you. Passing through the main gate and walking along the cobblestone pavement, you will see in front of you the house where we will be staying this time,Loof Iwainoie. It is a stately and atmospheric building that appears to be more than 130 years old.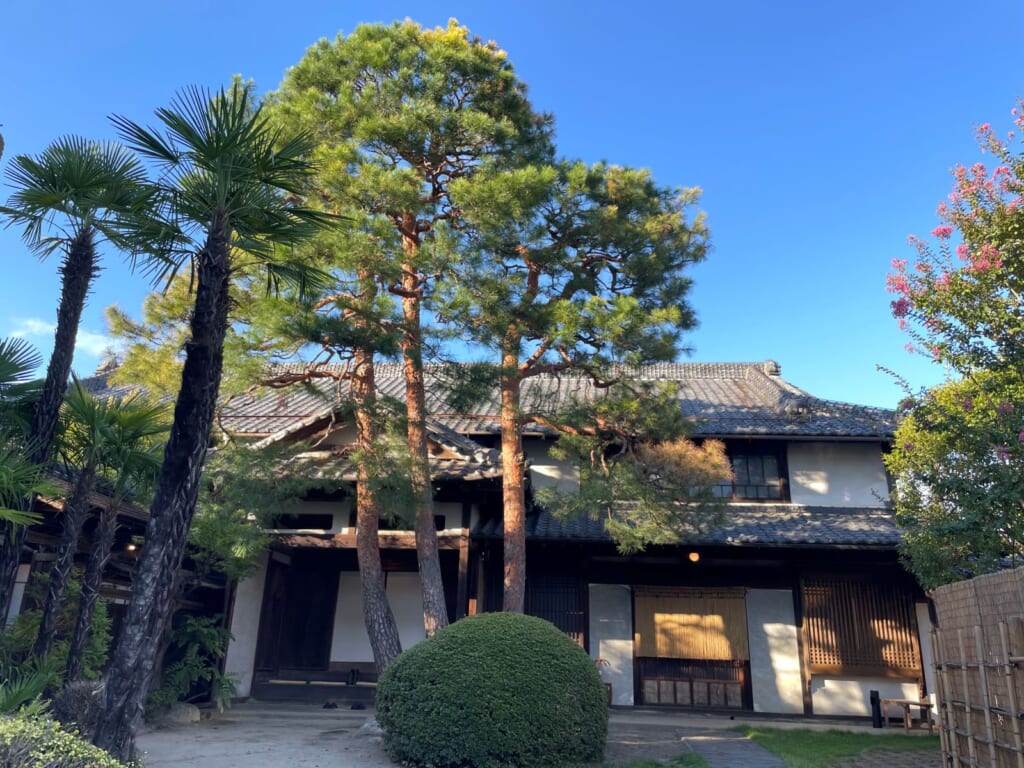 Three magnificent pine trees are planted in front of the main entrance.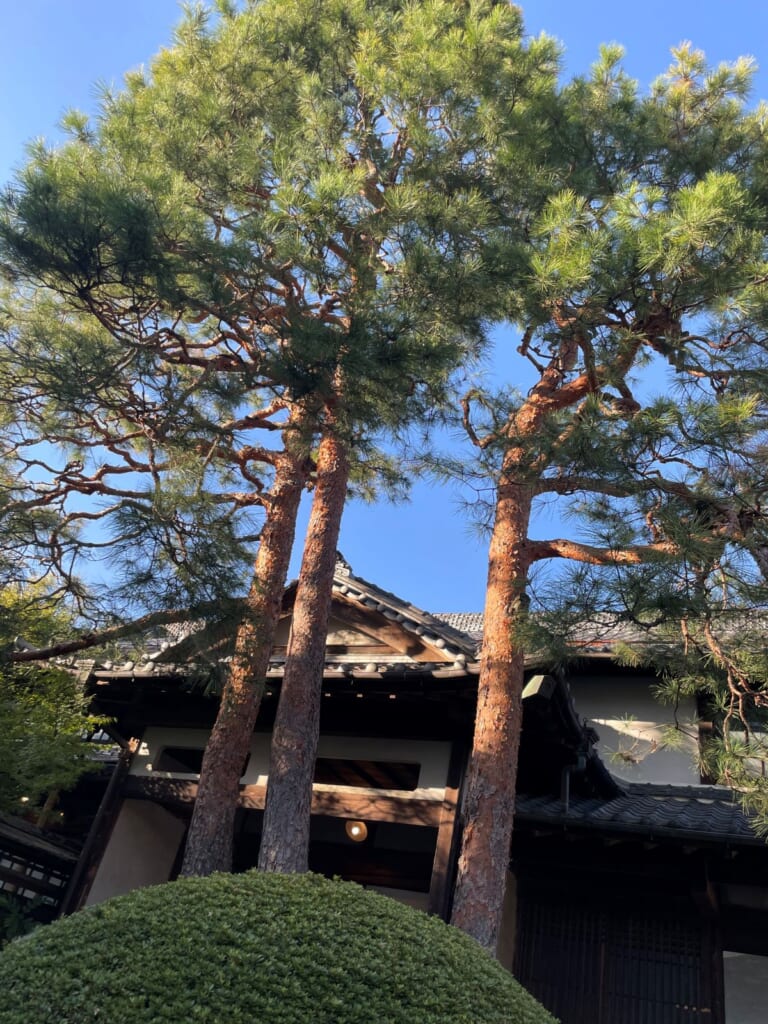 From the main entrance, turn left and you will see a gate, which leads to the garden.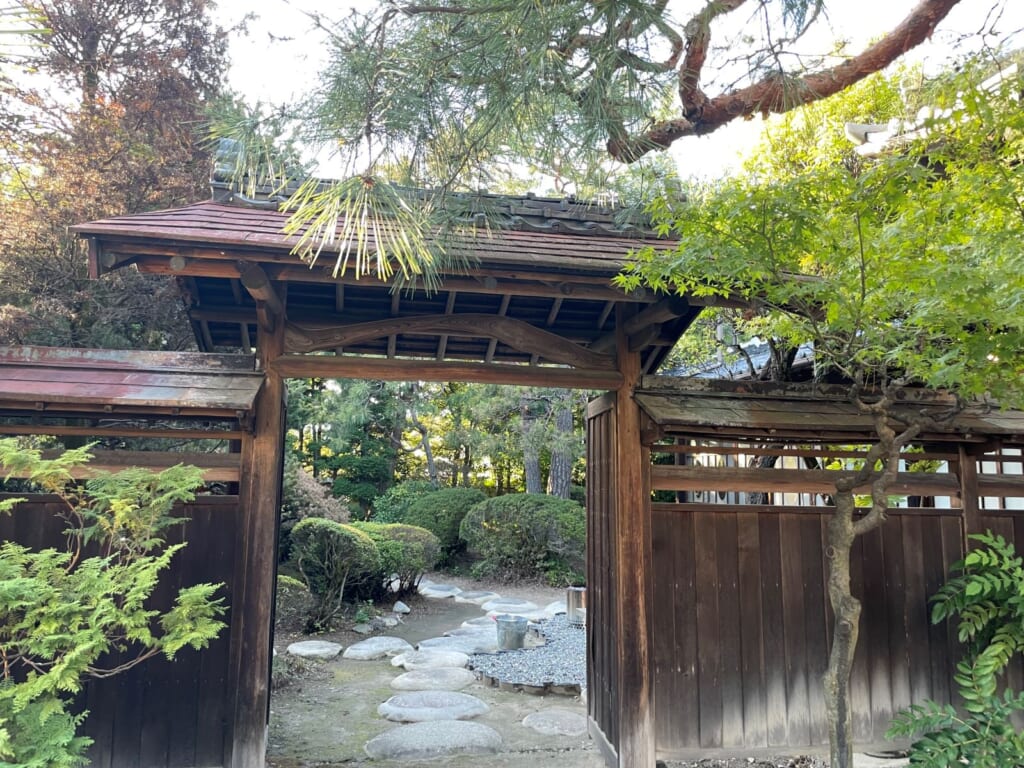 There is a space for bonfires in the garden, where you can sit on chairs and enjoy bonfires and fireworks. In the city, it is difficult to find a place where you can enjoy fireworks, but here you can enjoy them without worrying about your surroundings.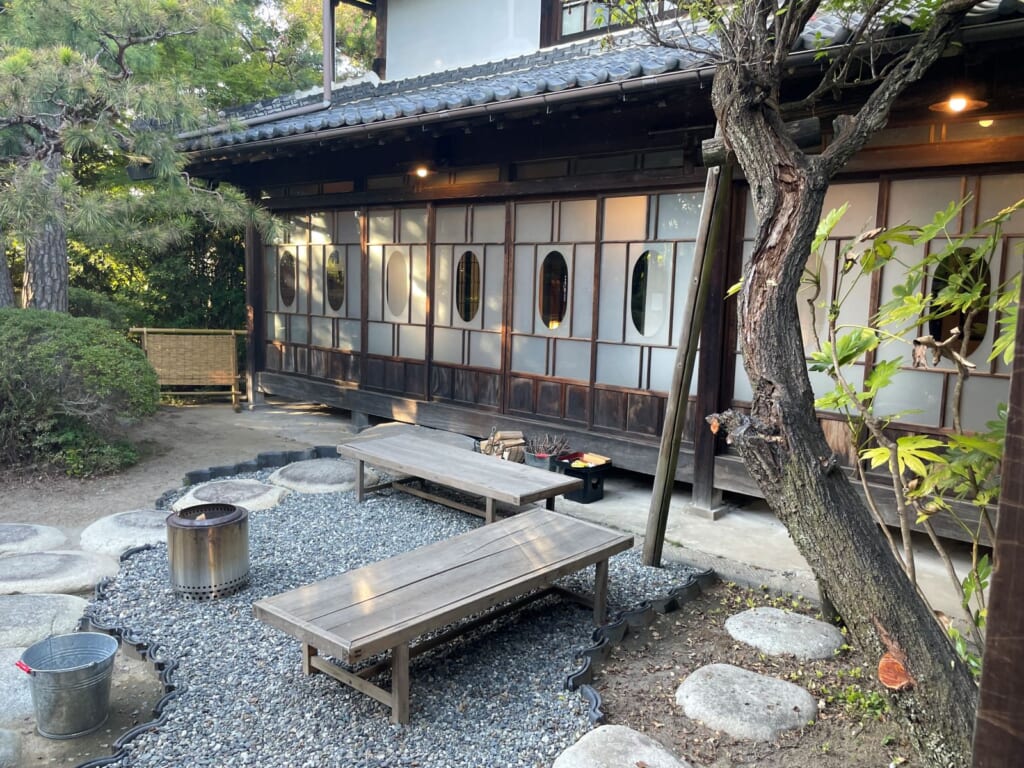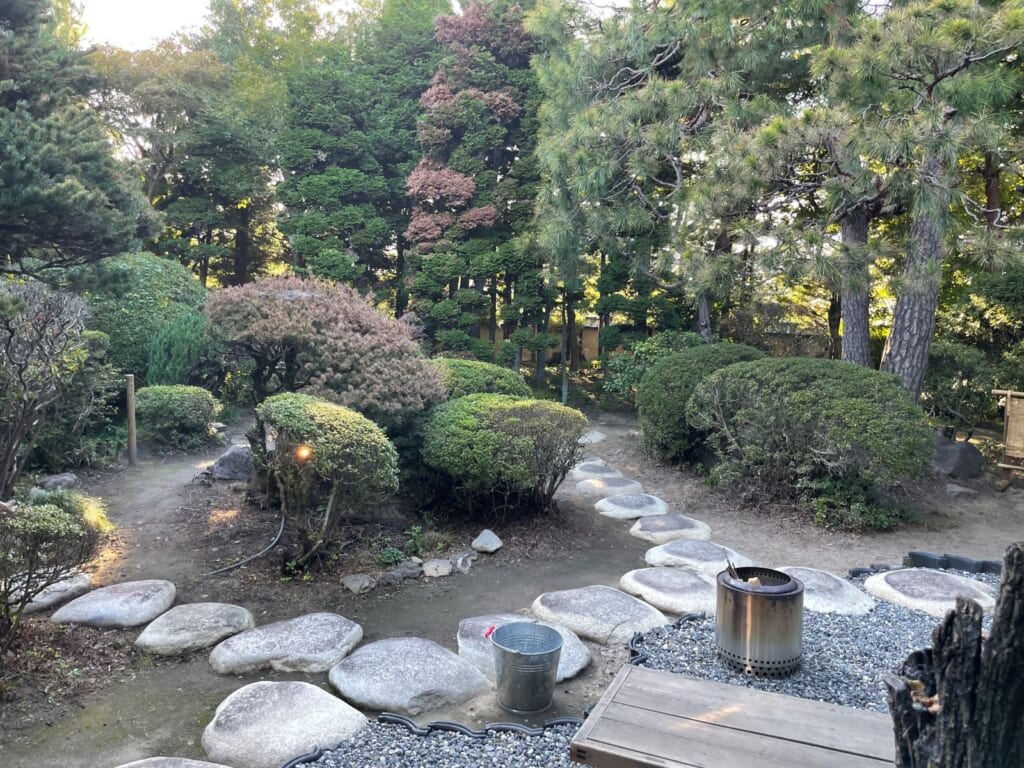 The inn is surrounded by trees, so it is a very quiet environment with only the sounds of insects and birds. I enjoyed watching the scenery change as the sun went down and the light changed.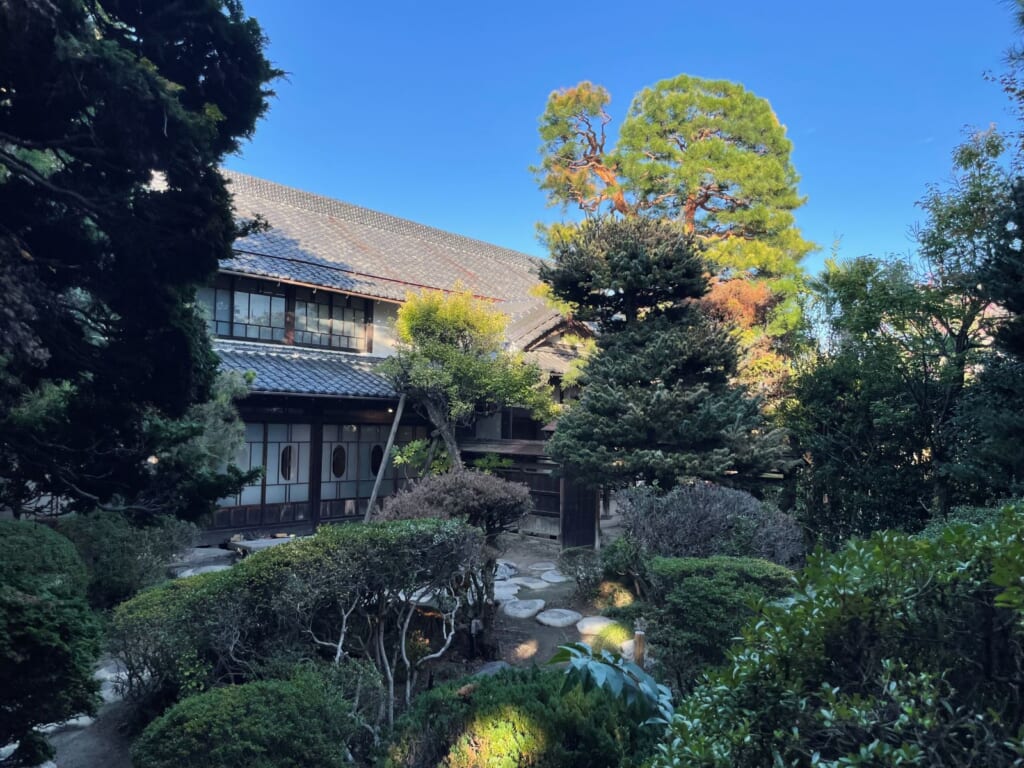 To the left of the main entrance, a space was set up with cushions made of straw to enjoy the view outside.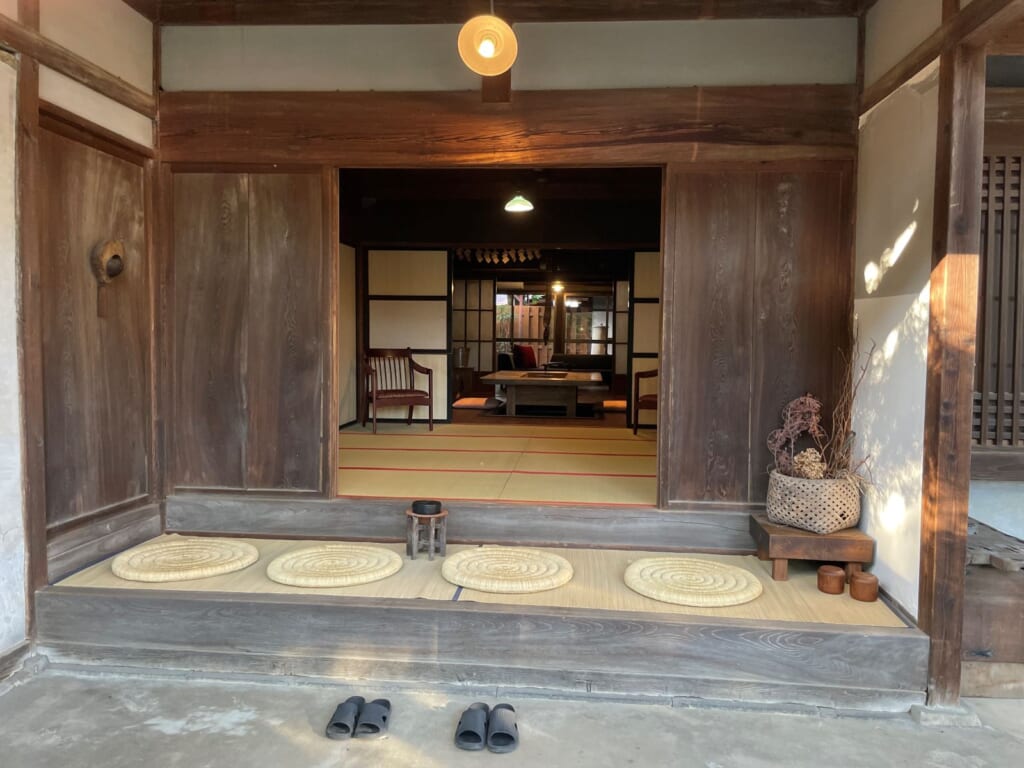 We were told that this place was used for riding in a palanquin for nobles in the past, and that it was never used for any other purpose. We were able to feel the culture of riding baskets that we have seen in period dramas.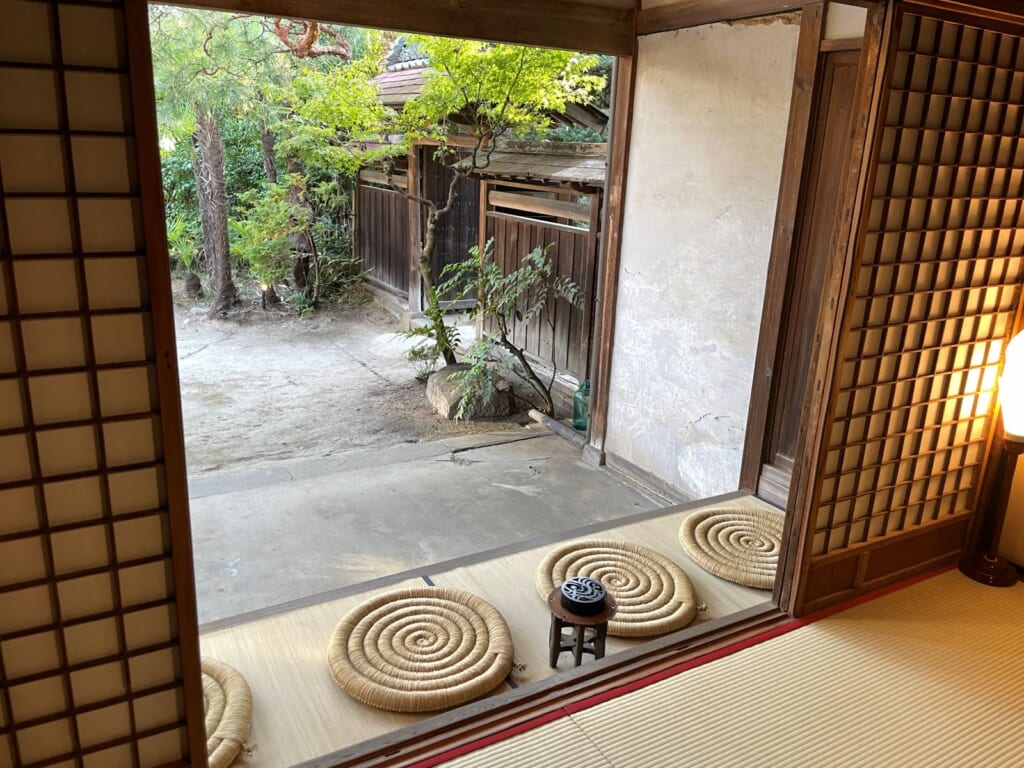 The area immediately after entering the main entrance is an earthen floor, with a vaulted ceiling up to the roof. The magnificent beams and pillars are a sight to behold. You can feel the history of the house, which was built more than 130 years ago.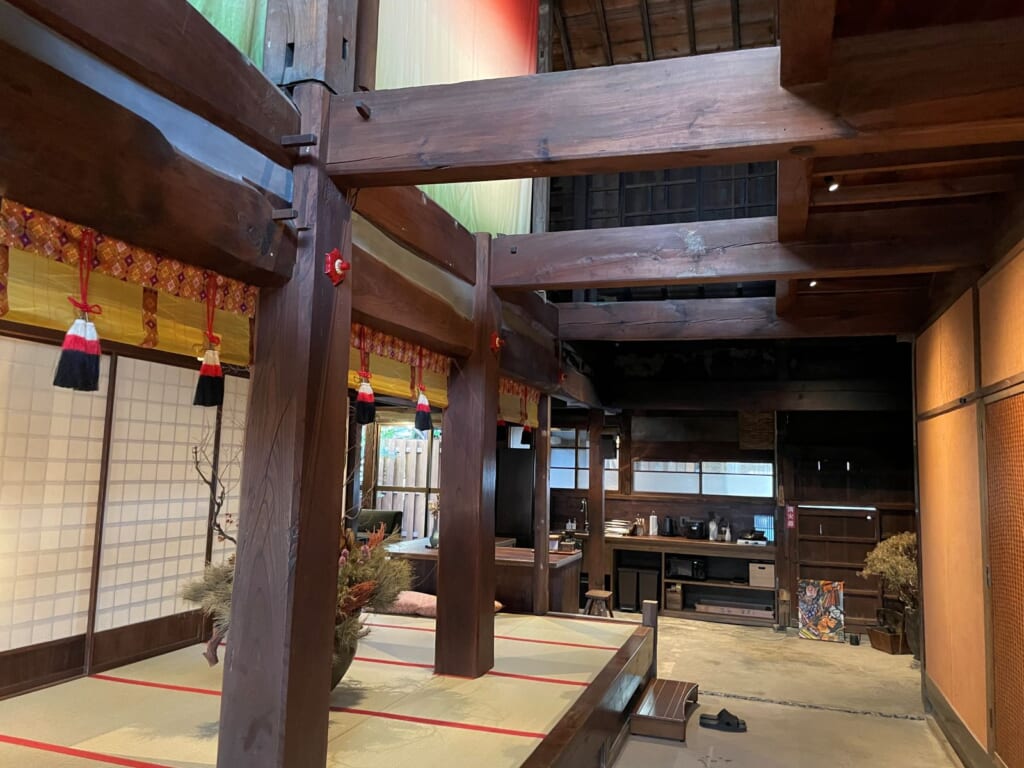 Tatami-matted rooms continue to the back of the house, a structure rarely seen in modern architecture.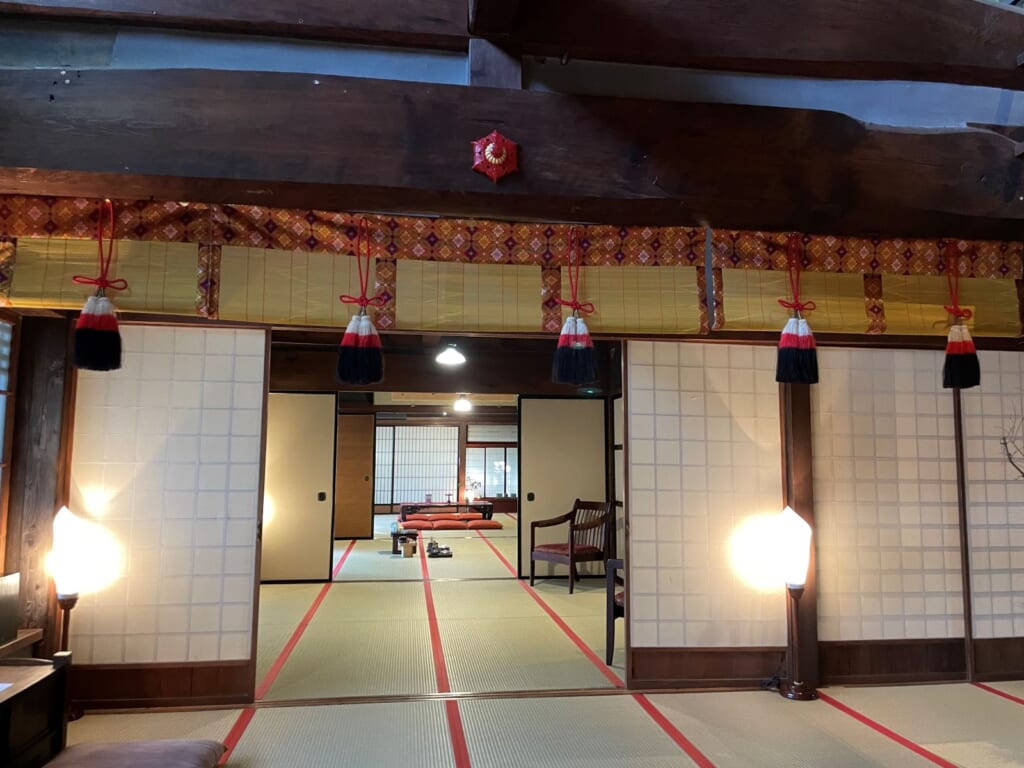 The back room has a magnificent tokonoma (alcove) and is said to be in the shoin-zukuri style.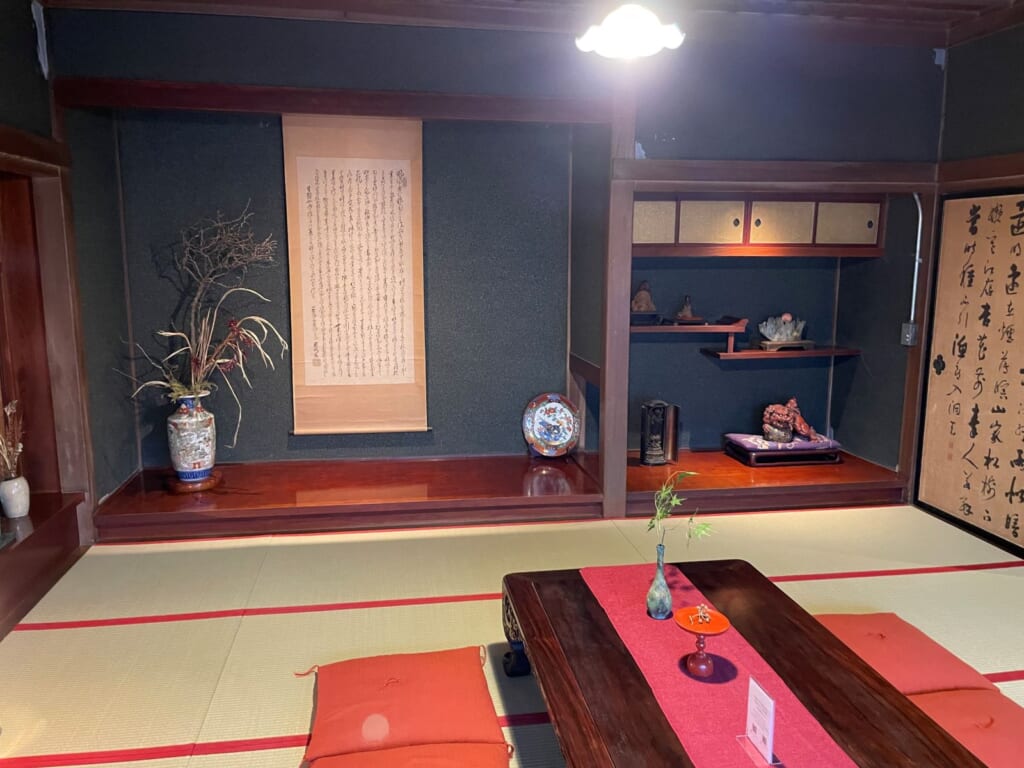 The porch is also built in a way that makes you feel nostalgic.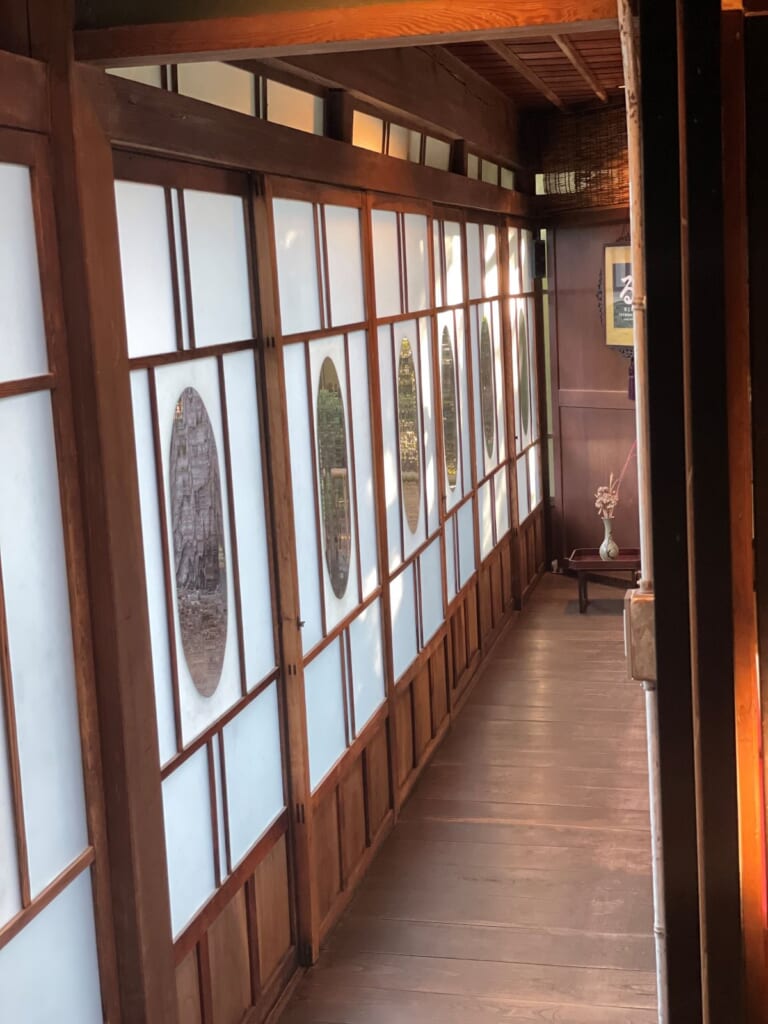 The view outside through the glass is soothing.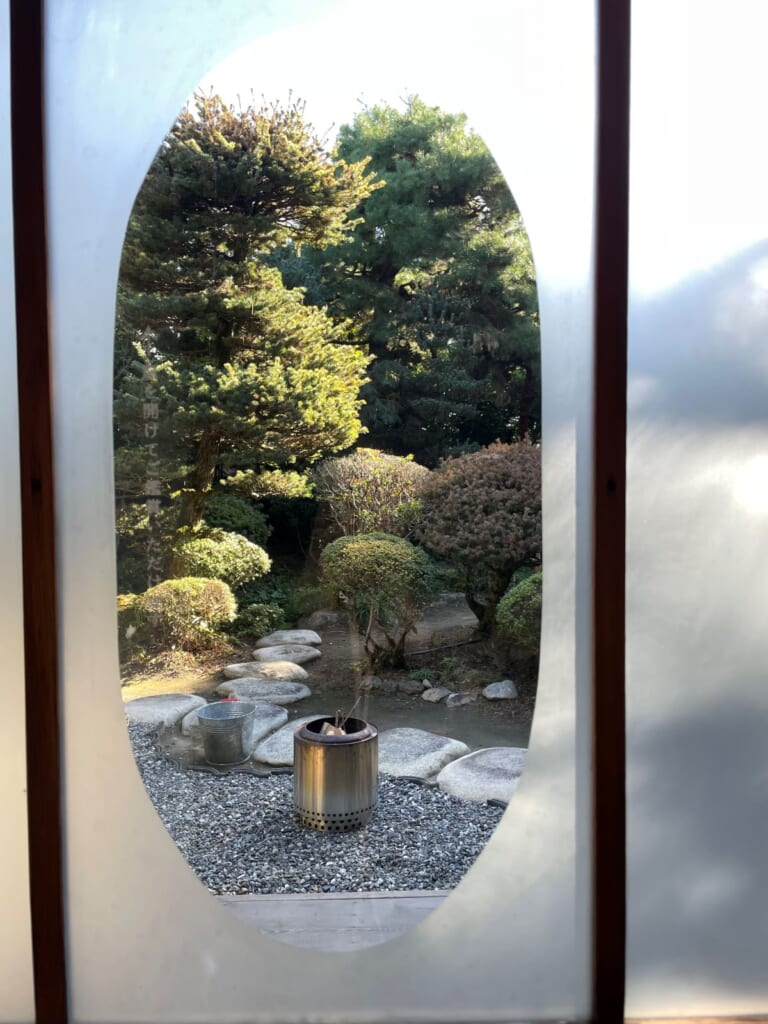 There are old-fashioned toys available. I tried to play with them, but my body did not move as I expected and I felt it was not supposed to be like this. I used to be able to do that a little better. According to the staff, adults are more enthusiastic about playing with the toys than children.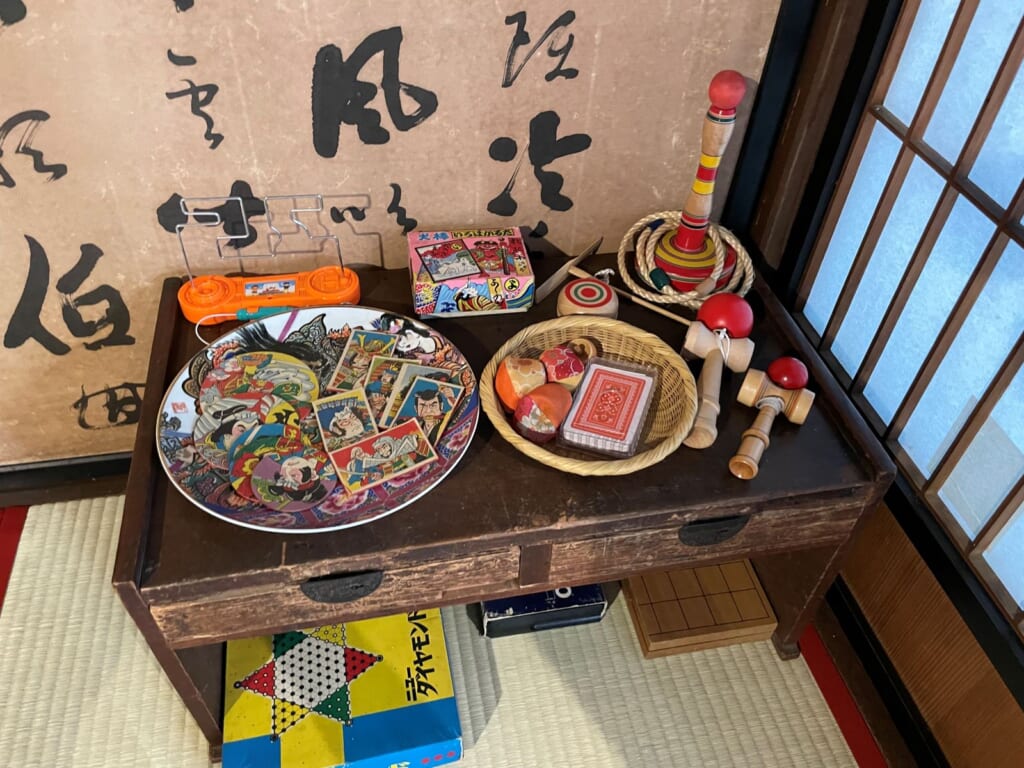 There are two bedrooms, and if there are more people, they can sleep on futons in the tatami room.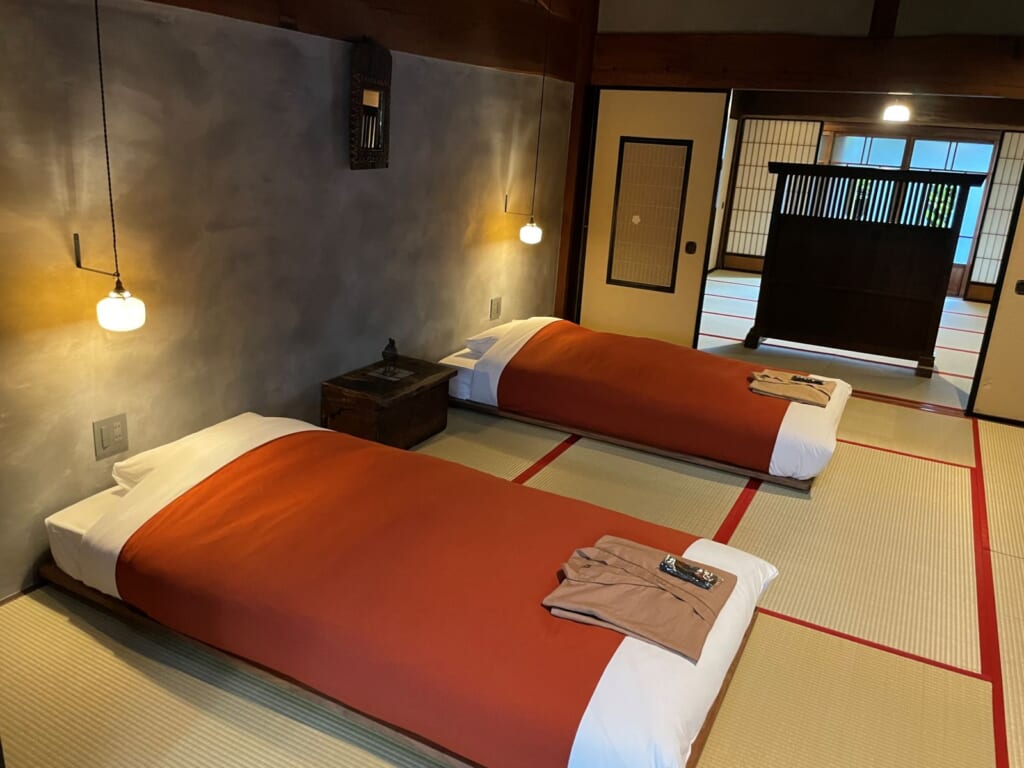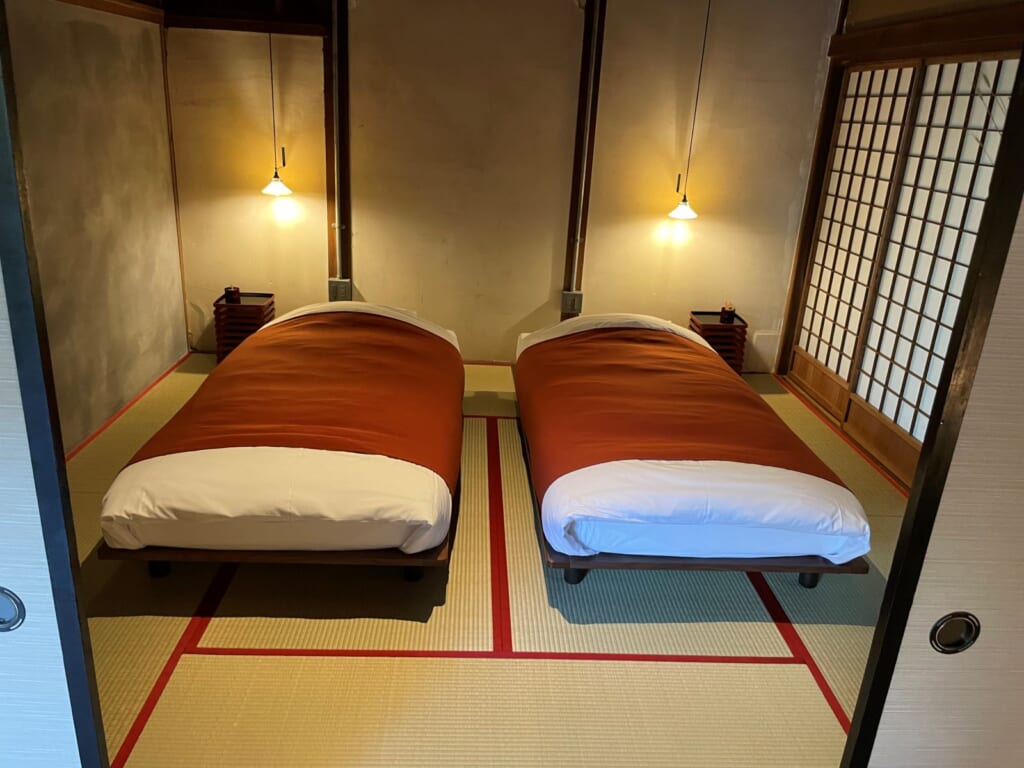 This is the hallway facing the courtyard.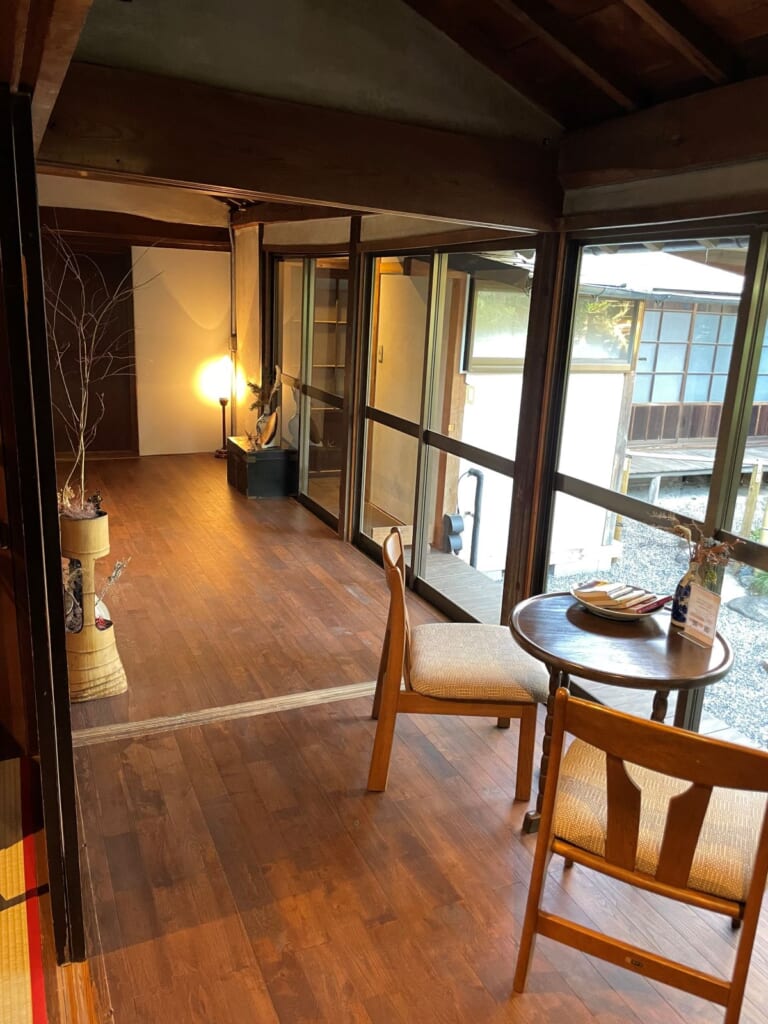 There are chairs and a table, and it is calming to relax and look out over the courtyard. There is another building across from the courtyard, but you are not allowed to enter it.
It is no wonder that there are Zashiki Warashi here. Some children said that Makurokurokurosuke from "My Neighbor Totoro" could be there.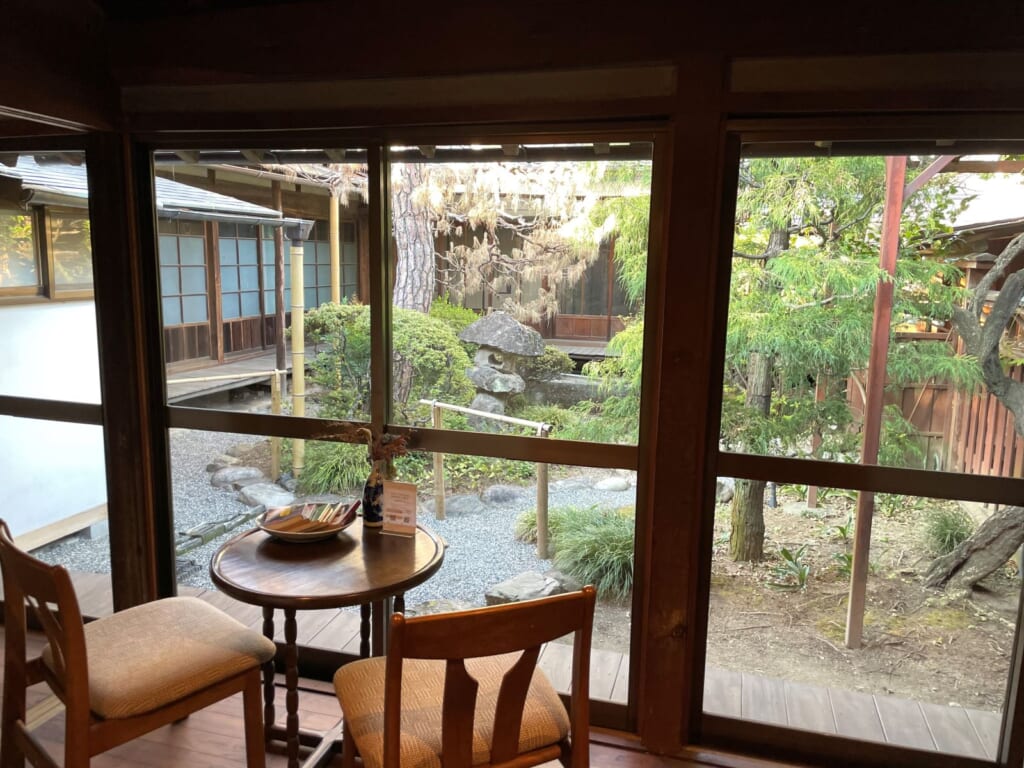 There is also a kitchen area, equipped with a large refrigeration and microwave oven.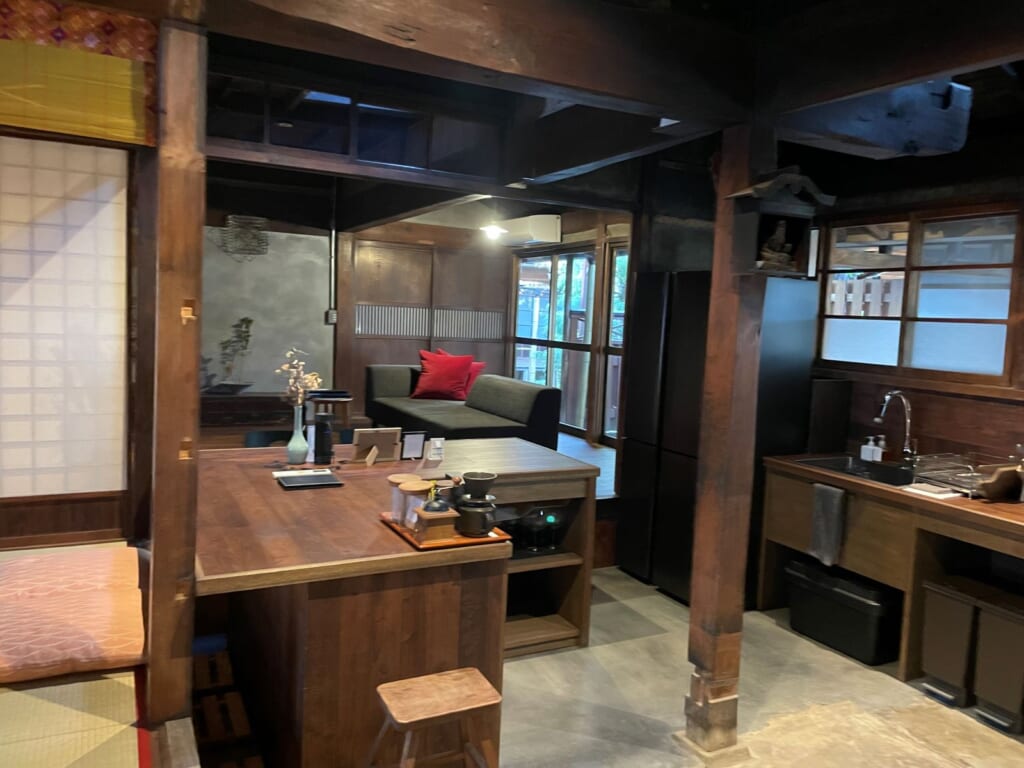 There were two restrooms.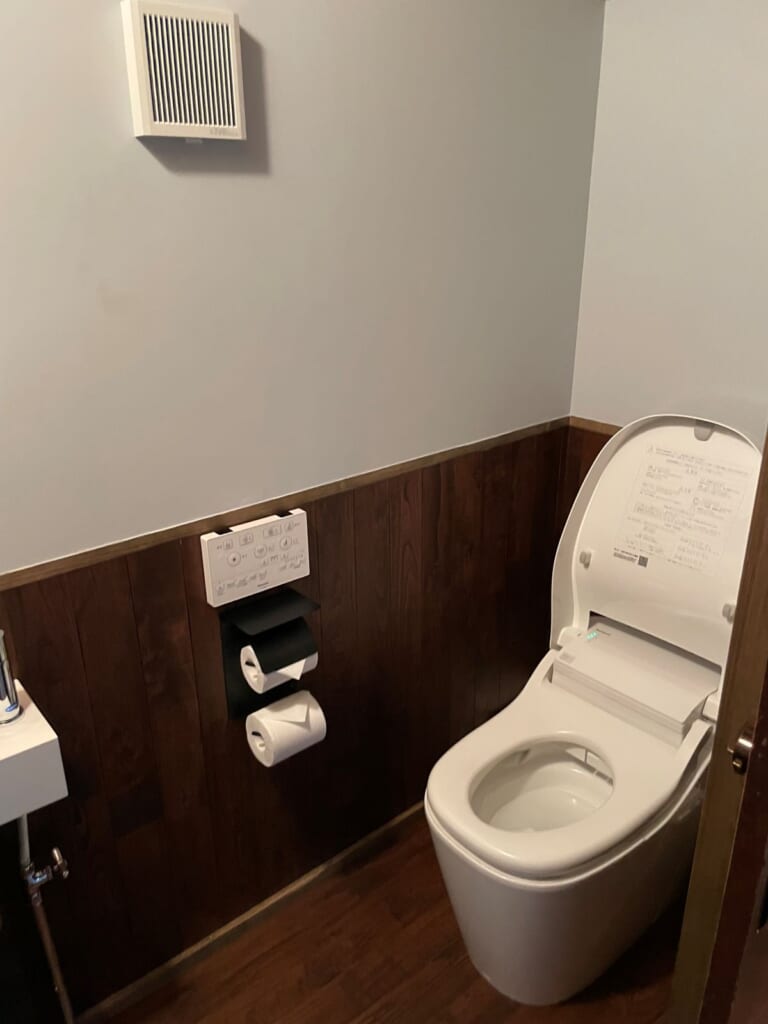 Matcha (tea celemony) experience
I had the opportunity to experience matcha green tea. It had been a long time since I had made matcha since I was a child. I enjoyed the tea slowly. However, I just couldn't get the matcha to froth properly.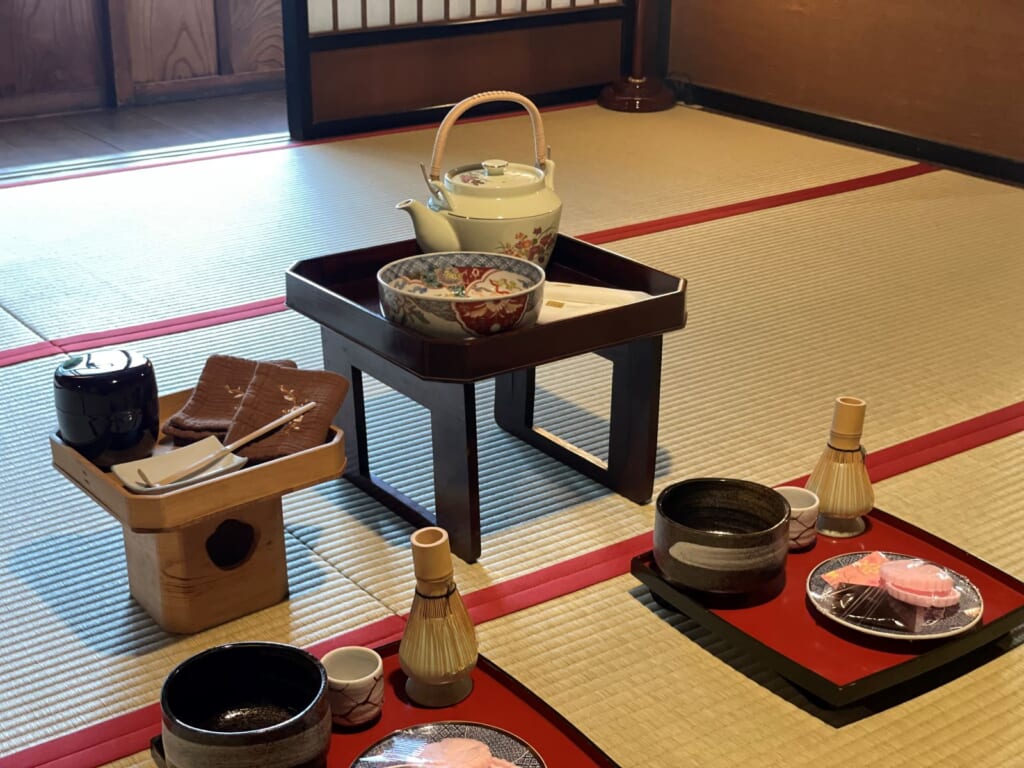 Meals
For dinner, the main dish was grilled sea bream in a salted kettle over an open hearth.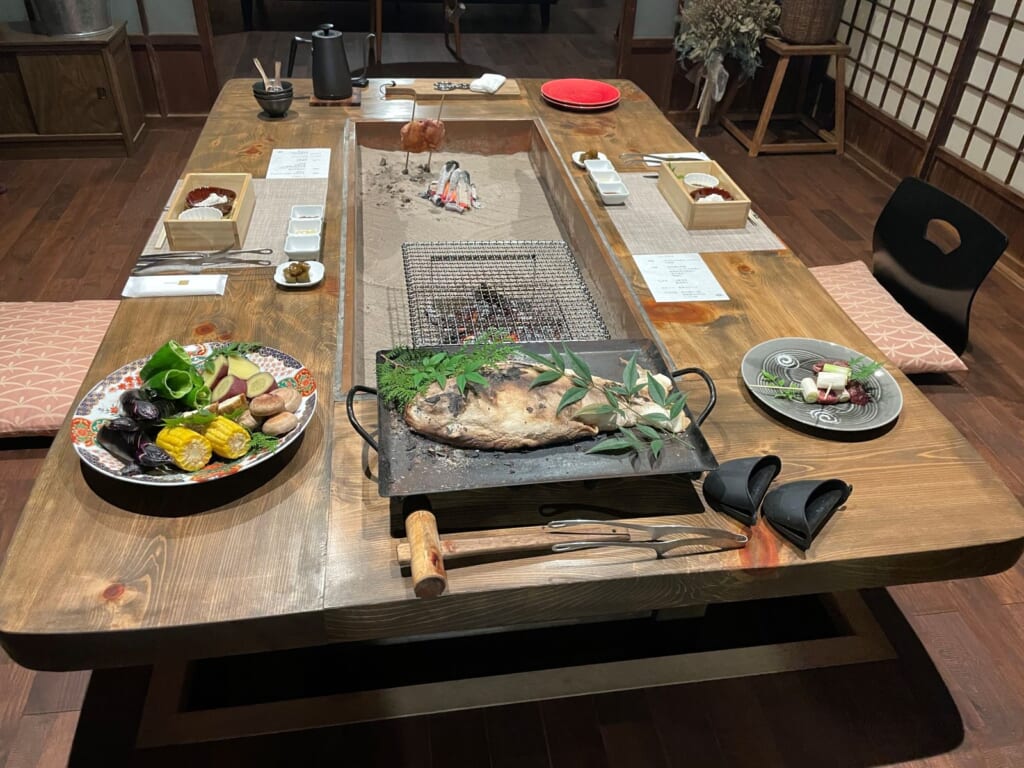 I made soba kaki (buckwheat dumplings) and served them with shoyu sauce. I heard that people in Yamanashi often eat soba kaki and many people like it.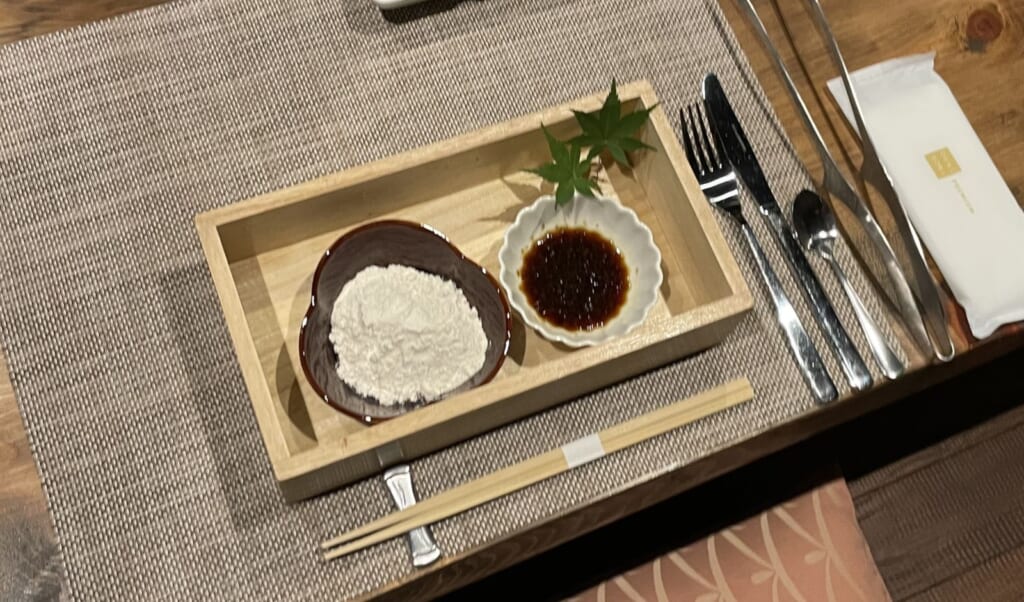 It is a grilled dish cooked on a sunken hearth. The atmosphere is great, and since you cannot usually experience a meal using a sunken hearth, you can enjoy an extraordinary feeling.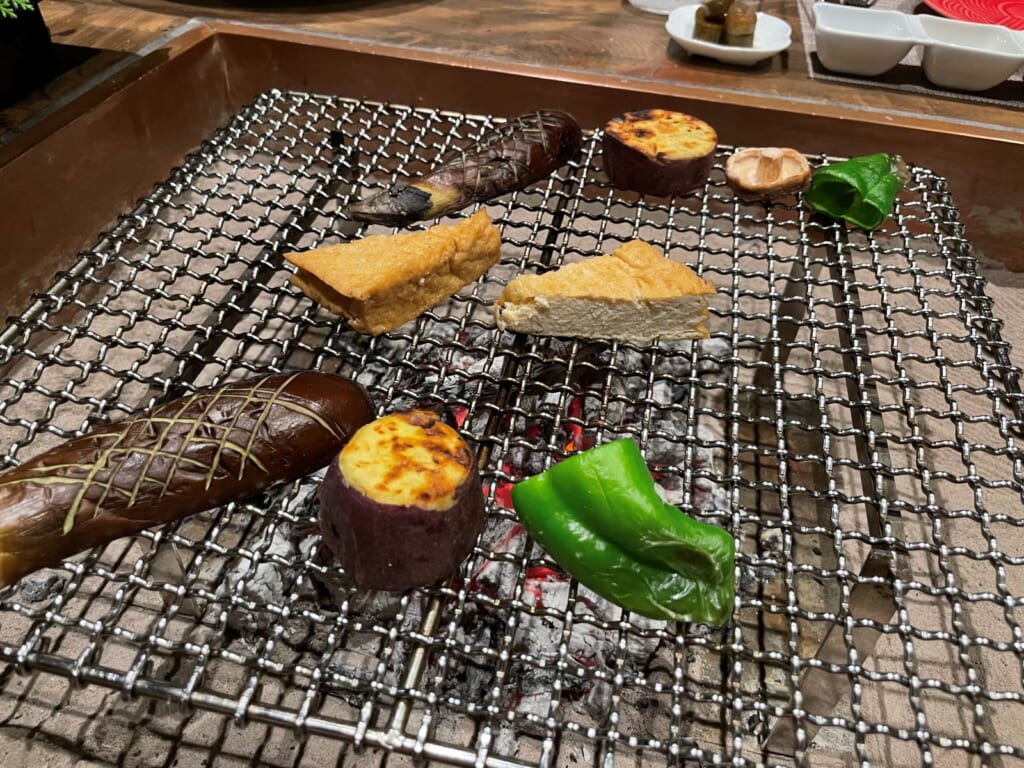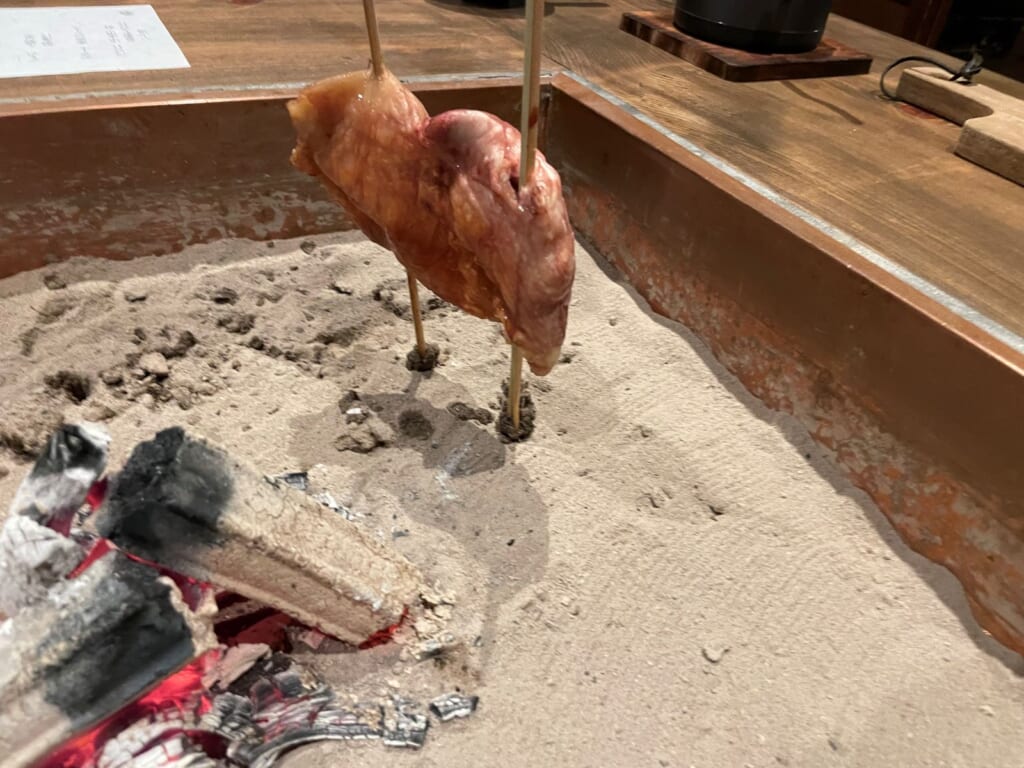 The main dish is grilled sea bream in a salt oven. It is served after cracking the salt by pounding it. It was fun, though I could not break it well.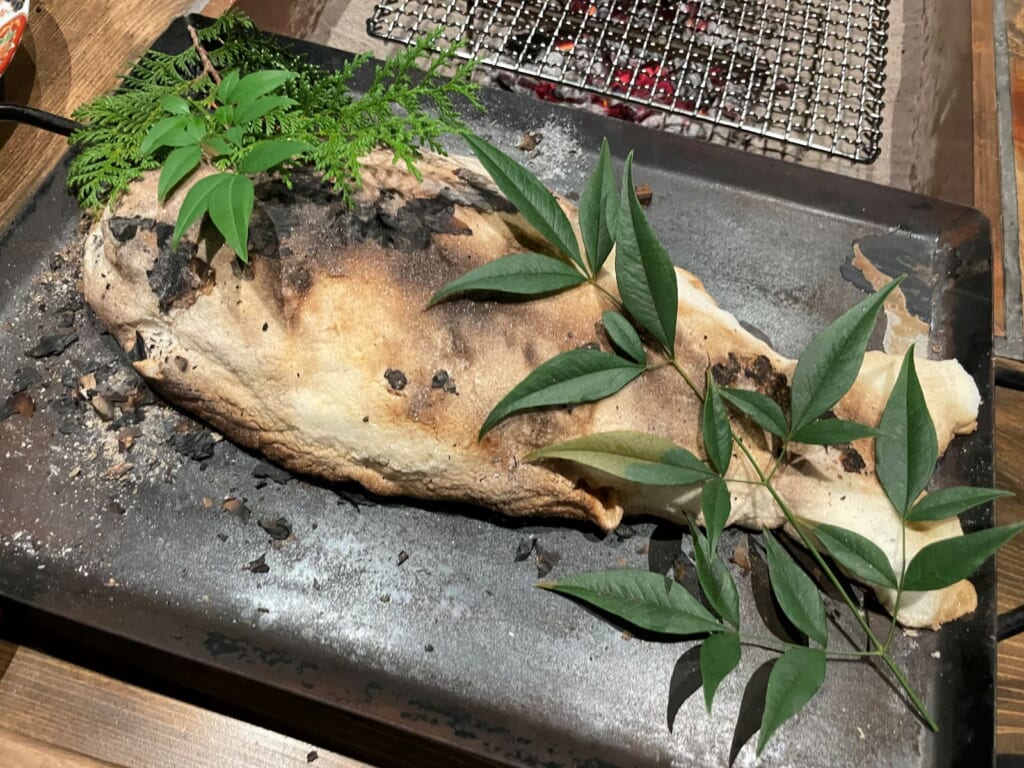 To finish the meal, we were served tai chazuke, which was made with sea bream meat, and it was very tasty and memorable.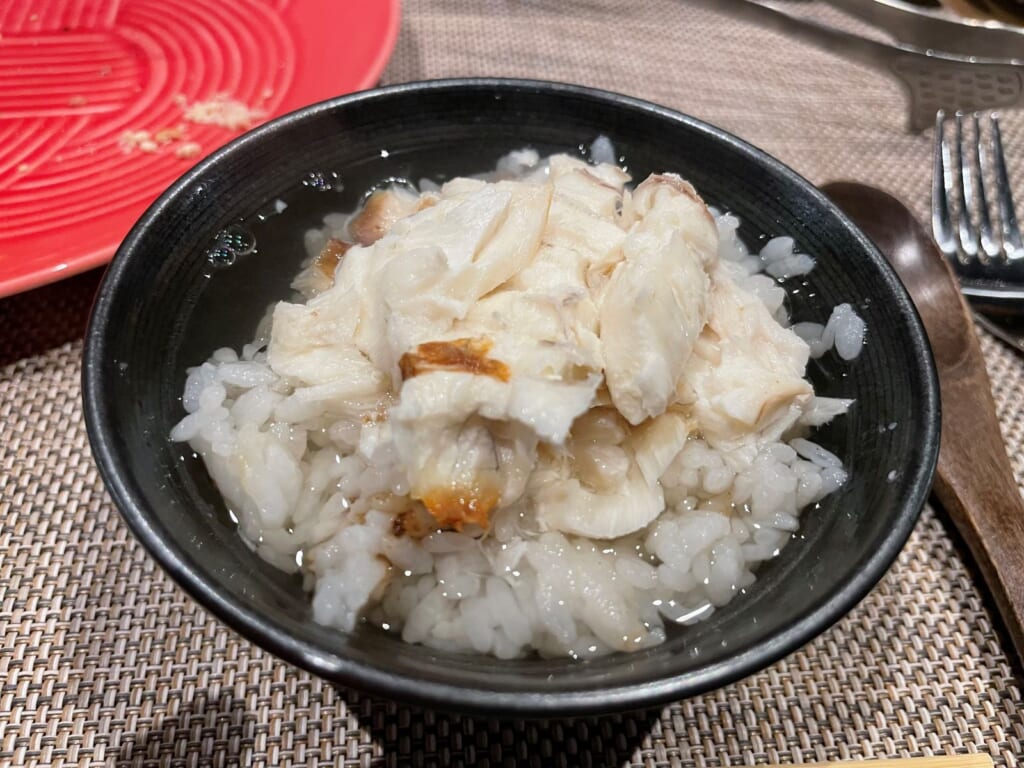 For breakfast, the staff set the timer on the rice cooker and prepared the ingredients in the refrigerator for you to prepare and eat by yourself. There are many kinds of side dishes and they are very tasty.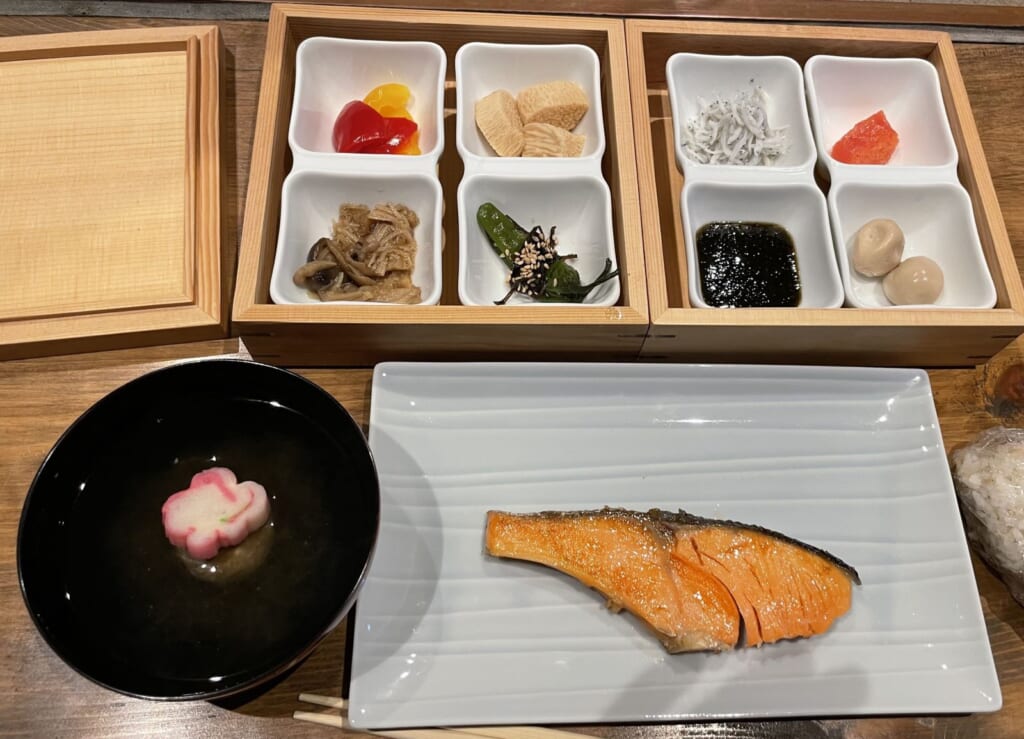 Bath
The bath was located in a separate room. There was a well in front of the separate house, and free drinks chilled with well water were available, which we enjoyed after the bath.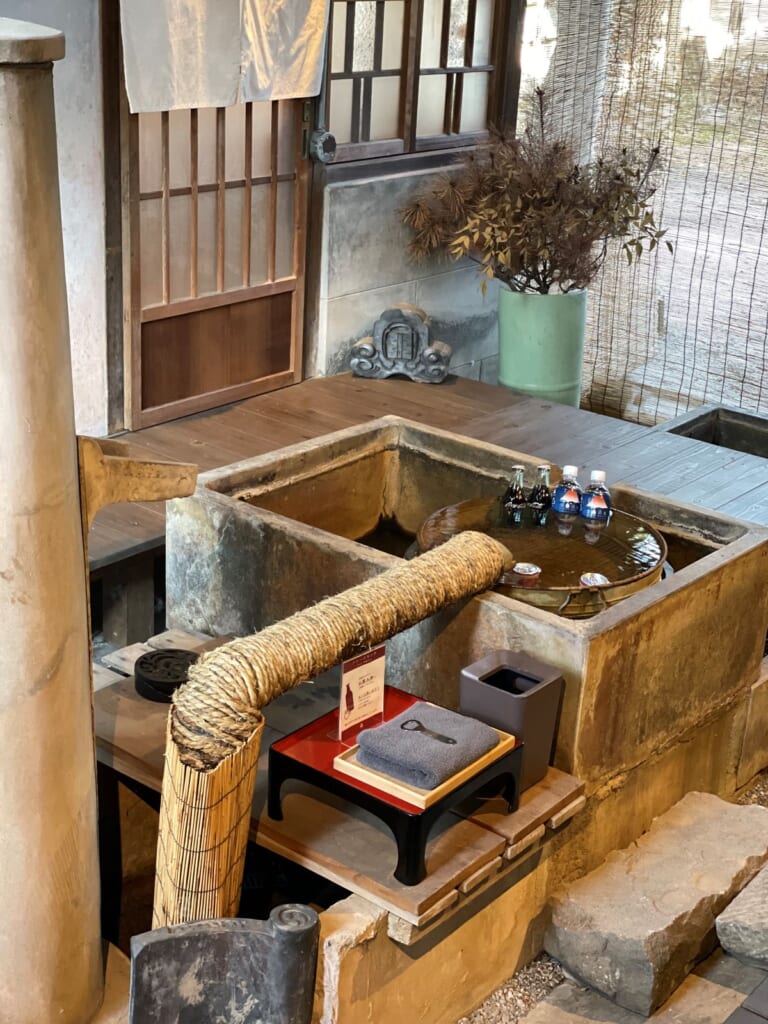 The bath was a hinoki bathtub with a very nice aroma. It was like a semi-rotten bath, and we enjoyed the hot water while looking out over the courtyard.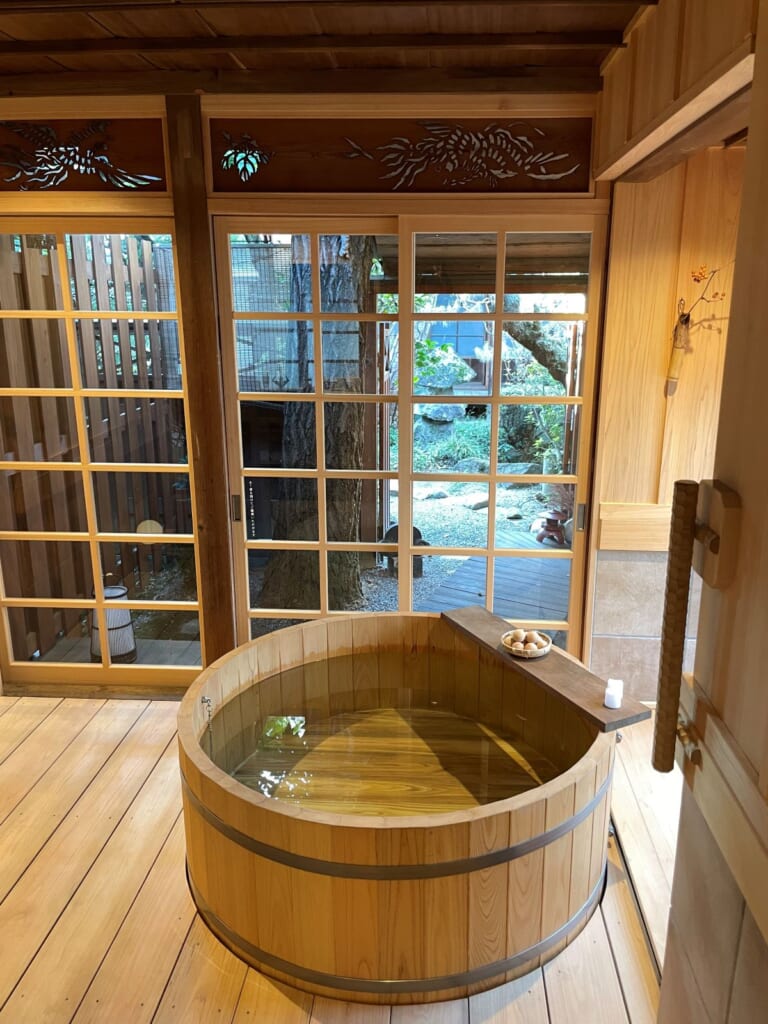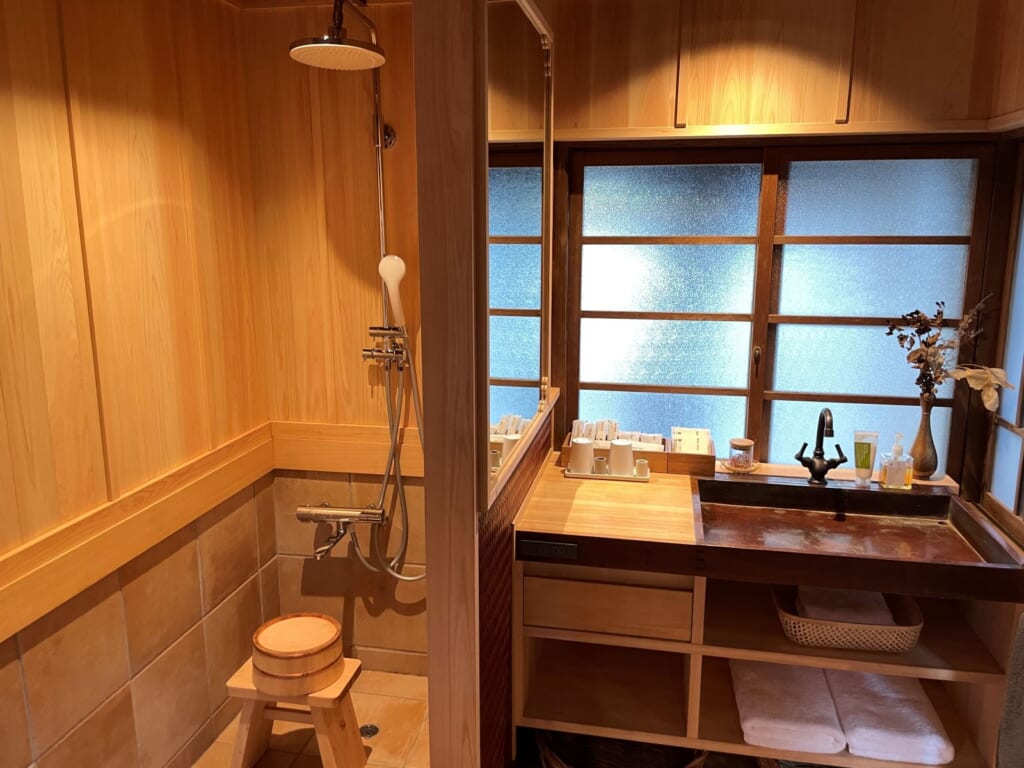 Bonfire
Bonfires can be enjoyed at Iwainoie. Watching the flames crackle and explode as you look out over the illuminated garden at night is strangely calming.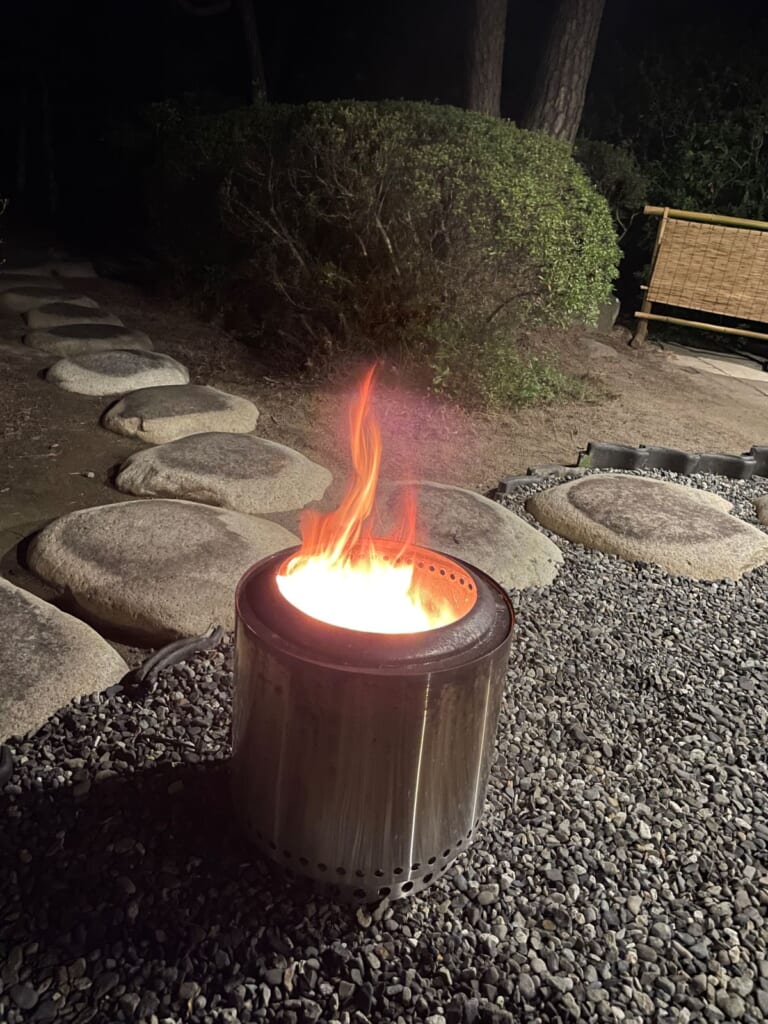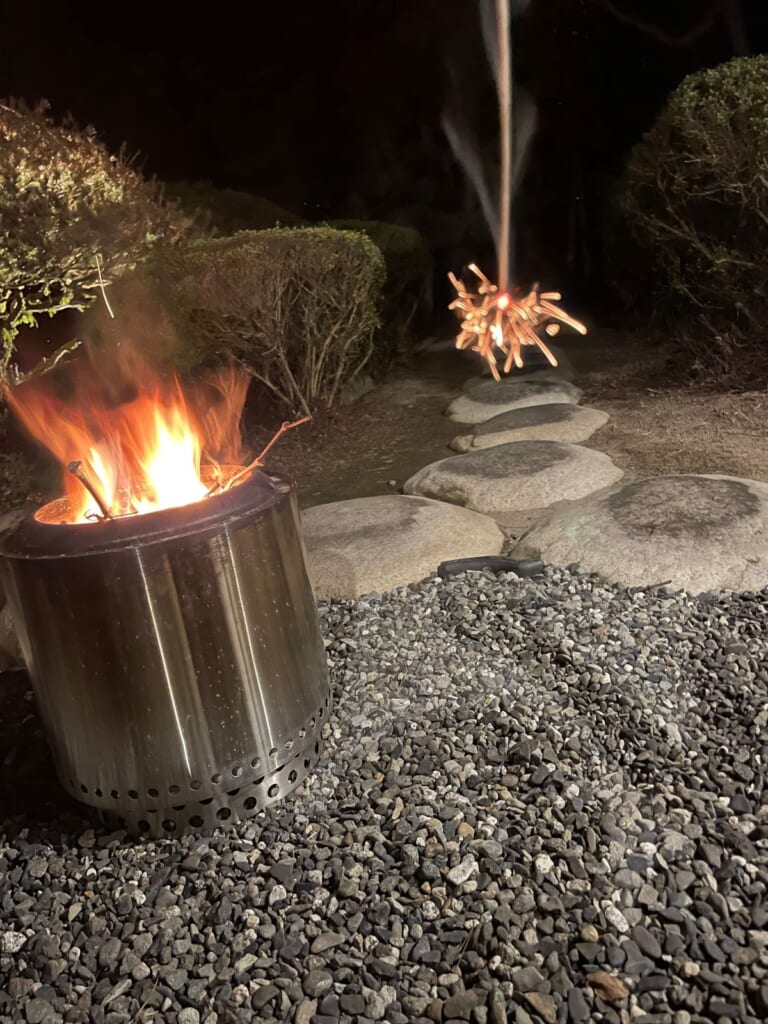 Summary
I felt that the grounds of Iwainoie are very spacious and surrounded by trees, making it an inn where you can spend a relaxing time without worrying too much about other people's eyes on you. I think a large group of people could have a very enjoyable stay here. It is not easy to stay in such a magnificent building with such a splendid garden, so it was a good experience for me. I felt that it would be fun to stay at Loof Iwainoie with no meal and spend the entire time in a relaxed atmosphere. It was fun to watch the bonfire, and since we rented the whole house, we were able to spend time without worrying about people's eyes on us. If you have the chance to stay here, please try it too.